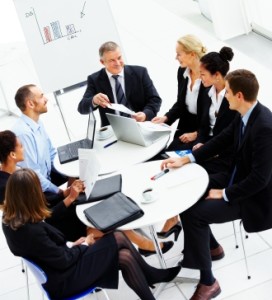 When the economy is at a low and thousands of public sector jobs disappear at phenomenal rates, the federal government becomes the employer of choice for many qualified individuals. One of our candidates was lucky to have landed a secretarial position with a Master's degree when her competition included those holding PhD's. Competition for a federal job can be intense. In addition, the waiting times for a job application take be anywhere between several months to a year!
Competing for federal job requires a resume that conforms to the expectations of hiring departments in the federal government.
Many applicants may not be aware that their resumes undergo a computerized screening process through a system such as Resumix in which relevant buzzwords are analyzed and resumes sorted according to relevancy in order to streamline the hiring procedure and make things easy for government agents.
Federal Resume Writers Offer Only High-Quality Federal Resume Editing Services
To gain the competitive advantage, you should consider applying to multiple job vacancies. However, each job position requires a resume customized to that specific position. If you simply send out a single resume to different positions, you will not achieve results. You need to have your resume content edited to match the expected experience and other minimum qualifications.
Our Federal Resume Writers can do this job for you efficiently, quickly, professionally and we guarantee that you will be satisfied with the final product! Your federal resume will be a polished, readable and key-word optimized resume that you can use as a strategic marketing tool to convince Uncle Sam that you are the best candidate!
Once you order our editing services, your resume editor will contact you and will stay in touch throughout the entire editing process to ensure your satisfaction as well as a high-quality finished product Our writers are available to meet any level of urgency you might have in applying to positions that may have an approaching deadline.
Federal Resume Writers has helped a countless number of individuals conduct successful job hunts for federal positions and we have many satisfied clients in the United States who are now federal employees with high income levels, social benefits and bright futures.
A rewarding future is within your reach if you choose a professional service that can offer you the editorial advice and expertise needed to land a government position. You will see that our writers are professional and timely when responding to your expectations and needs.
Federal Resume Writers is eager to be part of your next job search and look forward to receiving your order!